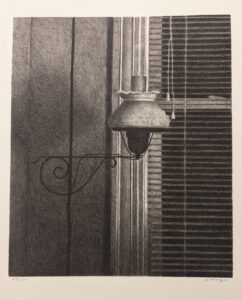 Lithograph – Image Size 12-1/4 x 10-3/4 inches
Lithograph
Edition of 100
Artist Proofs: 10
Paper Size: 17-1/4″ x 14-1/2″
Paper: Somerset Velvet, Softwhite, 300gsm
Ink: 60% Trophies Brown, 40% Black
Printed by Maurice Sanchez dba Derriere L'Etoile Studios August 2022
Nick Patten, often described as an American Vermeer, grew up in Troy, New York, not far from Albany where he eventually completed a degree in Studio Art. As a young man, after college, he moved around the east coast from Nantucket Island to Vermont. Eventually he moved to New York City where he worked in the NY art world for a day job while painting in his spare time.
After New York, he lived on Cape Cod for 12 years painting and operating his own gallery. Then he moved to the Hudson Valley, and later to his current resident in Providence, RI, where he resides today. He has had numerous solo exhibitions including a solo museum show and has been awarded a number of prizes including three best in show awards throughout his career.
His paintings can be found in private collections throughout the United States, Canada, and Europe. Public collections include the Cape Cod Museum of Art, the Mississippi Museum of Art, The Provincetown Art Association and Museum, the New York Public Library, the Print Club of Albany, and many other corporate and museum collections. What he states about this print, "Hobnail Lamp," was based on a painting completed in 2009. "The painting was oil on panel, and what intrigued me about the image was the austere composition. Often a very simple composition like this can be the most challenging type to create drama and emotion." This particular lamp is an antique that he found on Cape Cod and the milk glass hobnail lamp shade was of particular interest to him. The original source photo he took was done at night, which explains the darkness outside the window. In drawing on mylar to create this lithograph he worked around the highlighted shapes of the venetian blinds and the pull strings that hang at the ready. The subtle shadow of the lamp shade against the wall was a beautiful contrast to the linear nature of the lamp base.
Nick says it was a joy to return to lithography after an absence of over 20 years. It was further enhanced by reconnecting with the last printer he used, Maurice Sanchez of Derriere L'Etoile Studios in Long Island City. Maurice has worked with many icons of the American print world for decades and is considered one of the very best lithographers in the country today.
Timothy Kragt, Chairman Print Selection Committee.