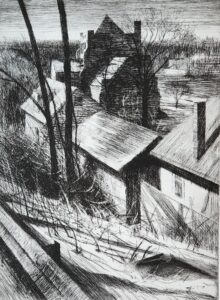 Etching – Image Size 15-1/2 x 19 inches
Etching
Edition: 100
Artist Proofs: 10
Paper Size: 15-1/2″ x 19″
Paper: Hannemuhle Copperplate paper
Ink: Black
Printed by the artist
The artist states the following: The idea for the etching "From East Buchanan" was conceived on walks through the hilly neighborhood surrounding my home on the North Shore of Staten Island during the winter of 2020. Like so many others, I was living a 'sheltered' existence for most of the year due to the Covid19 pandemic. While not traveling much, I revisited some favorite places near my home. The print is based an actual view that I've known and admired for a long time and the 'sequestering' times gave me a reason and opportunity to explore its visual possibilities, both as a painting and a print. The edition was printed in my backyard printmaking studio in the winter of 2021. 
The artist was born on Staten Island, New York and studied at the School of Visual Arts. He earned an MFA from Vermont College, with additional studies at the Art Students League and Blackburn Printmaking Shop.
Murphy's work has appeared in over 100 group and solo exhibits around the world. Some of the public collections that include his work are: The British Museum, The Brooklyn Museum, The New York Historical Society, The 9/11 Memorial Museum, The National Baseball Hall of Fame, The Denver Art Museum, Syracuse University and the Newark Public Library. 
Murphy taught at Wagner College on Staten Island from 1984 to 2020. He served both as Gallery Director (2007-2020) and Chair of the Art Department (1998-2005). He has also taught at the Art Students League in New York City.