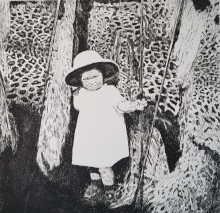 Etching – Image Size 9.75 X 9.75 inches
Hugo Bastidas statement about the print:
A childhood friend sent me a photo of his step-aunt when she was a toddler posing with ten Zulu warriors. Having painted a number of works several years ago similar in content, I knew it would make for a wonderful image; innocence surrounded by the reality of the unknown. The photograph was made into a painting with a colored blue sky added to the original black and white still.
The artist received his undergraduate degree form Rutgers University and MFA from Hunter College. He has received a number of awards including a Robert Smithson Scholarship, a Fulbright Fellowship, Pollack-Krasner Grant and a NJEA grant. He is represented by the Nohra Haime Gallery NYC where he has had 19 solo shows. He has attended residencies at ArtOmi, Can Serrat (Spain), CAMA (France) and others. He had solo shows at Gyeongnam Museum (Korea), Kunstdoc, Bonn Gallery and others. His work has been included in many group shows. He represented the USA at the Cuenca Biennial in Ecuador and the Sharjah Biennial in UAE. His work is in many private and public collections including El Museo de Barrio, Montclair Musuem and Zimmerli Art Museum. His art work has received 80 critical reviews in the most positive light. His work has been represented by Gallery Borea which included showings in Paris, Cologne and NYC.
He is a member of the National Academy of Design in NYC, elected member of the Century Association and a board member of the Artists Fellowship. He is an Associate Professor at New Jersey City University and lectures at the Art Students League.