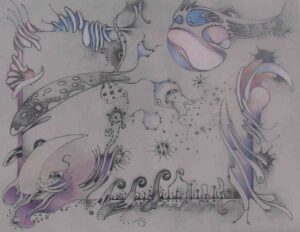 Solar Etching – Image Size 11 X 14 inches
The artist, Isaac Abrams, was born in 1939 in New York City. During the 1960s was interested in psychedelics and was friends with Timothy Leary. He began painting as self-taught in 1965 and in the same year opened the first gallery in the world devoted to psychedelic art. For a time he lived on a ranch in California with noted rock stars. While in Europe, he became friends with the painters of the School of Fantastic Realism. He began making sculpture in 1970s and later did extensive work as an animation and video artist.
The artist has shown his work world wide and from New York to San Francisco. Currently he is exhibiting at the "Drawing Now" at the Caroussel de Louvre in Paris. He has exhibited at the Whitney Museum, Cologne Museum, Centre Pampidou, Graham Gallery and others.
Isaac Abrams is mentioned in many publications including, Psychedelic Arts by Masters and Houston, History of Modern Art by Arnosen, New Directions in Modern Painting by Kelterberg, Avant-Garde in Modern Painting by Bazain, and others.