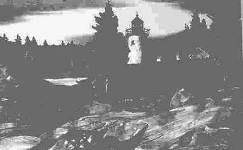 Lithograph – Image Size 8.125 X 12.625 inches
Born in Brooklyn in 1906, Stow Wengenroth studied at the Art Students League of New York and Grand Central School of Art. He was elected to the National Institute of Arts and Letters in 1942. A master of lithography, he won more than 30 print prizes and later published Making a Lithograph. (1)
Andrew Wyeth once termed him, "America's greatest living artist working in black and white."(2)  He focused on shadow, light, and form, and avoided color.
He lived and worked for many years in New York City and Long Island before moving to Rockport, MA.
He was renowned for his carefully rendered scenes of the New England seacoast, including its craggy rocks, lighthouses, and boats.
His works are on display at the Library of Congress, Smithsonian, Whitney, Metropolitan, Fogg Museum of Art in Cambridge, Carnegie Institute, Museum of Fine Arts in Boston and the Boston Public Library. He died in 1978 in Rockport.
(1) Stow Wengenroth | Smithsonian American Art Museum (si.edu)
(2) Stow Wengenroth Is Dead at 71; Artist Was Known for Lithographs – The New York Times (nytimes.com)